Need to Convert Excess Airtime to Cash?
A vast number of people have always had the issue of mistakingly recharging airtime from their bank accounts, with most having no perfect measure to tackle this problem. Eazymobile provides you with a seamless modular component you need, to convert airtime to cash. Have you mistakingly recharged airtime, legitimately accumulated same or do you accept airtime as a means of payment for services? then Eazymobile got you covered with our fastest payment solutions! GET STARTED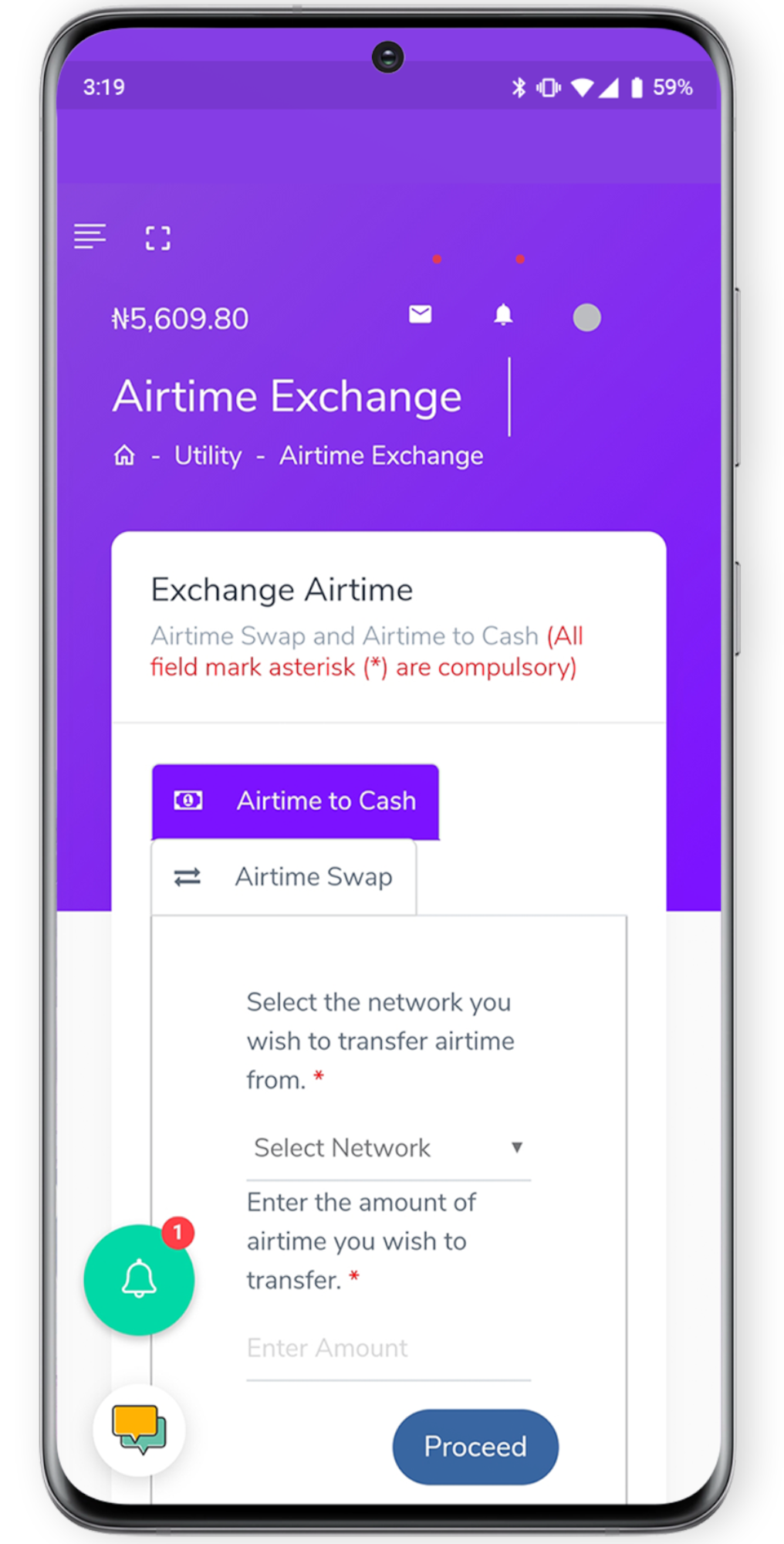 Airtime to Cash Guide
Follow the process below to easily convert your airtime to cash
How to perform airtime to cash?
Create an Account
Start by creating an account with the best telecom platform - Eazymobile, which enables you to convert mistakenly recharged airtime or excess airtime to cash. Our delivery speed is next to none!
KYC Verification
To carry on with your day to day transactions on Eazymobile, you're required to undergo a verification process. This is considered needful as mandated by the Federal Government of Nigeria.
Click on Airtime Exchange
Checkout Our Rates
Click on Airtime Exchange and choose airtime to cash. Proceed to select the network, input amount and click on proceed, then transfer the airtime to the displayed number to complete the process.
Withdrawal
After a successful Airtime to Cash Transaction, your wallet is automatically funded. You can simply withdraw the funds from your Eazymobile wallet to your bank account. You may also decide to keep the funds in your wallet.
Our Charges and Fee

---
Eazymobile Conversion Rate Vary Based On Market Trends But You Can Trust To Have The Best Rate With Us, So You Don't Have To Worry About Getting Charged. Airtime (MTN & Airtel) = 80% Airtime (GLO & 9mobile) = 70% Meaning You Will Get 80% Or 70% Of The Value Sent. Wallet Get Funded Almost Immediately The Value Is Received.
---
For more info check our FAQ page
The problems we are solving...
1. Purchased excess airtime from your bank using banks app or USSD code,or Mistakenly over-recharged airtime.
---
2. Receiving airtime as payment for services offered to your customer.
---
3. Airtime gifted from someone to you.
---
4. Excessive airtime can be reversed or changed back to money in your bank account using Eazymobile.
---
5. Swap one network airtime to another network.
---
6. Accept donations with airtime.
---
Why do i need to exchange my airtime?
1. We offer the best and suitable airtime conversion rate.
---
2. Eazymobile has the best, user-friendly and easy to use transaction interface.
---
3. Eazymobile makes it easier for you to exchange all networks of airtime for money in Nigeria.
---
4. Our years of experience in Airtimeflipping for money is what makes us stand-out.
---
5. Our minimum and maximum transaction limit is none to other ranging from (500 – 5,000, 000) daily.
---
6. We are as fast as cheetah in payment so we give instant payment to your bank account anytime of the day. We are unbeatable as our withdrawal or/and transfer system is automated.
---
Smooth & stress-free Exchange
Eazymobile provides the modular components you need, to convert airtime to cash, our transactions are fast and fuss-free.